#Winning. Is a massive lurch right-ward incoming after a century of Leftist domination? Will the Left in the West implode as it did in Israel?
The Left in the United States faces a perfect storm of failed immigration policies, FBI/Deep State scandals, and a Democrat civil war fomented by restive Brown radicals resentful of the old white ethnic elites ruling their party. Some of these macro trends are already evident in polling, but they will likely accelerate as these issues play out over the coming years.
---
Although a political ideology of debauchery might have short-term popularity, it's ultimately self-destructive because it produces high levels of psychological dysfunction and low fecundity among its followers. Thus, the Left is trapped into importing a voting base of alien high-fecundity ethnic groups (i.e. Muslims and unskilled Latinos) to make up for their own shortfall. Muslims in Europe, for example, vote over 90% Leftist. Similarly, Browns in the United States vote 83% Democrat. Democracy has been replaced with a system of imported voters to stuff the ballot boxes. Thankfully, after decades of delusion, the population has finally taken notice that something is amiss.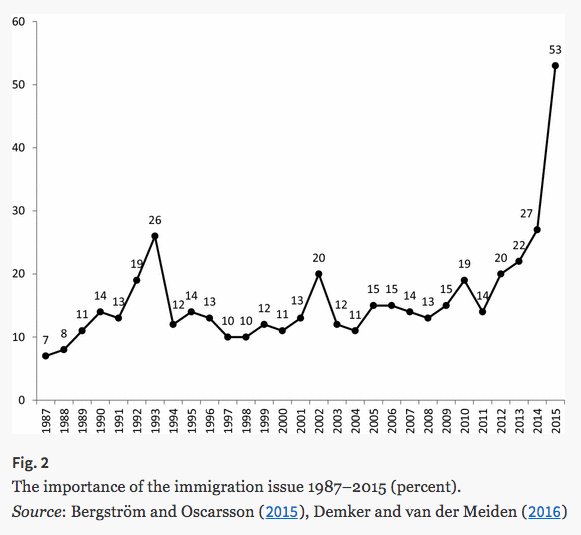 For the Left to form this motley alliance of Mayan descendants, medieval Muslims, LGBTQ activists, feminists, Jews, urban white ethnics, and core White Leftists, they had to construct an ad hoc anti-White political ideology: Intersectionality. The contradictions of this improbable coalition are papered over by a Cannea-style control over media, education, and public shaming. They have to run out the clock by terrifying, silencing, and gaslighting the citizenry into inaction until the demographic weight of their minority proxies takes hold, as it did in California.
A well-organized breakout could've rolled up Hannibal's thin lines.
While "cis" Whites are demoralized and bewildered by the Left's audacity, they are still a significant majority of voters and can defeat what is, in actuality, a flawed adversary. The problem with the Left's diabolical plan is that by making their quasi-religious political ideology rooted in degeneracy, it's existentially a paradigm of demonic-style heresy (Sabbateanism) inherently hostile to their country's traditional values and people. Accordingly, the leaders of such a hyper-subversive movement will be deranged cluster B's, like Hillary Clinton or Obama. As such, they'll be prone to compulsive corruptions and sadism, meaning that at any time they could be exposed and their movement could suddenly and irretrievably collapse.
How the Left Imploded in Israel
What happens if all of the Left's inherent flaws and contradictions are exposed, simultaneously, and there's capable right-wing leadership to exploit the opportunity?
As a Jew in the States, I was shocked by the ghastly suicide bombings during the 90s/00s Second Intifada. It was ghoulish stuff with heads and body parts scattered in a blast radius. What did the Left do? Nothing, which was really just tacit support of the terrorists.  The bombing terror only stopped when Israel built a wall (against Leftist opposition). Was the Israeli Left getting a bizarre sadistic trip out of the carnage? Well, their peculiar passive-aggressive attitude during this low-level civil war appears to have permanently alienated them from Israel's core population.
Similarly, does the UK's Left lose sleep over lower-class 13-year-old white girls getting passed around by Pakistani men? Apparently not since they've done little to stop it after nearly a million victims since 1980. The Labour party is aligned with the rapists. And do Labour party members, who relish in their degeneracy, get a perverse sadistic fantasy out young white women being defiled by barbaric Muslims? It seems like it. Either way, they are passive aggressive and thereby tacitly support the groom gangs.
Could Israel's reversal of fortune play out across the West? If the UK follows Israel's example, the core population will slowly begin to get a clue, notwithstanding the Left's gaseous self-righteous rhetoric and control over most mainstream media outlets and institutions. First, it's a steady drip of crank far right-wingers; later comes the avalanche of normies.
After that, you get a cultural revolution with nativist women bearing children as an act of demographic warfare. So, those formerly debauched and feminist Israeli secular girls now have 2.6 kids. Then welfare subsidies get cut for minority fecundity, and the birth rate of the Left's ethnic proxies collapses. The Battle of the Babies ends in victory for nativists.
The Left Owns Immigrant Outrages
Six months ago I specifically predicted the inevitable collapse of the Left in Sweden (talk about going out on a limb). But, this appears to be coming to pass, just as it did in Israel.
TL;DR: the Left bringing in Muslims is like inviting someone to come along with you to a party. Your friend rapes a girl and sets the house on fire. At the end of the day, you are responsible for inviting the guest.
Because Muslims often come to the West out of Jihad, and they salivate the weakness of the Left; they are uncontrollable by their handlers.

The Left owns this and millions of other crimes across the West.
While I'm optimistic about some Western nations, France, the USA, Belgium, and Holland are all in bad shape because their ballot-stuffing via-immigration programs were started in the 60s/70s/80s. The Reagan-Kennedy Amnesty of '86 naturalized a remarkably fecund cohort of Mexicans. Is the demographic cake baked? Steve Sailer noted that half of the births in France are minority. But, as Europe lurches rightward, the dam will break and might yet save all parties. Checks will be cut, and flights will send the imported voters home.
Scandal Politics

While the immigration debate rages in the background, the primary issue in the USA remains an attempted Deep State coup-d'état.  As far as Mueller, as always, Trump loves to bait his adversaries into over-reach. He then ferociously counter attacks.
Trump's mentor was Roy Cohn, who had astute PR and tactical skills.
Mueller had nothing but a pair of two's before Labor Day (when his ability to manipulate the electorate went on recess with the incoming midterms). Trump, on the other hand, has the entire Deep State in the biggest scandal of US history.
Now that the Deep State has gone after his family, raided his attorney's office, and imprisoned several associates for trivial concerns (including Manafort in solitary confinement for months), Trump is now unhindered. The difference is that the parties Trump will be attacking won't be concealing a $120K payoff to a blackmailing pornstar, but a wide-ranging scandal of epic proportions:
Concealing Hilary email crimes
Rig a FISA court to spy on a political candidate
Witch hunt run by an unethical prosecutor that was guided by a phony dossier endorsed by the Justice Department.
And who knows what else a Republican fishing expedition will turn up?
Even if the Democrats manage to win Congress, they won't be able to help themselves and will spend the entire time investigating Trump. The end result will be a parody of side-by-side investigations of incomprehensibly maniacal Democrat crimes compared with Republican minuscule violations of arcane campaign finance laws. A case against Andrew McCabe is already being prepped by a Grand Jury. He'll be looking at years in prison or a plea deal. The tables will be turned.


Ethnic Civil War on the Left
When the Democrats lose shockingly, as in 2016, they tend to indulge their self-destructive impulses.
The days of the white ethnic urban machine bosses (Jews, Italians, and Irish) dominating the Democrats are numbered: Dianne Feinstein being challenged, Ocasio-Cortez defeating a veteran Irish Congressman, etc. Whatever scheme there was to keep Brown voters subservient has been upended; they've turned on their former masters. Brown ethnic voters are notably more radical and vote according to their ethnic interest.
In the next decade, expect a cavalcade of high profile Hail Mary nominations of unelectable Brown radicals. Disaster likely looms for the Left in 2020 as these contradictions and the general electorate can't be reconciled, and there is no Obama-like figure to unite the fractious coalition.
These Brown race radicals don't hide their intentions; they monologue like James Bond villains. "The womb of the Arab woman," the late Palestinian strongman Yassar Arafat boasted, "is my strongest weapon." What better way to inspire otherwise difficult Jewish wives to have children?
Now that the Left is no longer concealing their anti-White genocidal scheme, it's a fixture on the New York Times opinion pages. Here another Leftist leader indulges his sadistic fantasy that ICE agents will be imprisoned like former Nazi concentration camp commandants.
With this kind of open visceral anti-White hatred, how difficult can it be to awaken voters from their stupor? Indeed, young white men have flipped 14 points to Republicans in the last two years.
There's strong evidence of Jewish, Hispanic, and Black men similarly pivoting to the Right. Perhaps the menagerie of Leftist pet groups is tiring of Intersectionality's perpetual angst-ridden tribal/gender warfare? The Democrat base is being cornered into college-educated "cat ladies," Muslims, and unskilled Hispanics.
The Left is also over-reliant on tech companies. What happens when the Democrats become taken over by their aggro Afro-Hispano-Islamist base? What does Google think of Venezuela-style Latin American populism? Further, if Trump finally cracks down on the monopoly abuses of Amazon, Google, and Facebook, then will he have the leverage to correct their political bias?
All of the factors above may come to a head over the next 30 months. The Left's immigration scheme is still a decade or so away from being electorally decisive so there's a window to destroy it. There's reason for cautious optimism that the days appear numbered for this bizarre degenerate ideology and its army of imported Jihadi and Latin American voters.